We believe we can analyse and engineer structures that can create an artificial system of distributing water more effectively than nature.  As floods and droughts overcome our defences and schemes, we spend exponentially more raising the walls, or pumping water from afar. We might allow that some part of this work could be natural measures, but this runs counter to our belief. The Flow Partnership seeks to bring engineers, politicians and community leaders to re-examine our beliefs together about the water challenges we face.
The work in water, at this edge, brings engineers, policy makers and community leaders together in the acknowledgement of a new water paradigm (read Michal Kravcík's book A New Water Paradigm here). This new water paradigm as described by Michal Kravcik is based on the water cycle. Water in the soil, feeds trees, stimulates evaporation, forms clouds and realises rain. In a simple way we can enhance this cycle by working with nature, in digging ponds to hold water, planting trees, cooling the sun's heat on the earth by evaporating the water, circulating the water
through clouds, and bringing regular rhythms of rainfall.
Below is an example of the work of Rajendra Singh in India
In 1985 Rajendra Singh, inspired by Gandhi, went to live in dry and arid rural Rajasthan,
India, with the intention of introducing modern education and medicine to that impoverished area. But soon the villagers made clear their primary need was for water. Over the next few years, harnessing the villagers' traditional wisdom, the river systems in the region were regenerated, dramatically transforming that arid land into a lush, green area of well-being and productivity.
What was done
Over 28 years, 7 entire river systems, previously dried up for 80 years, were revived. Over 10,000 Johads (small earthen dams) were built by the villagers at strategic places. Underground aquifers were recharged, rivers began to flow again and food supplies were secured helping those villages to become thriving communities again. Now the project is being replicated across India.
How it was done
Tarun Bharat Sangh (TBS),  www.tarunbharatsangh.in the organisation that Rajendra set up for this work, began its work in the village by nurturing the Village Council, a traditional body comprised of representatives from each household, where all decisions are taken by consensus. Here, villagers agreed to contribute resources (labour and materials) towards building the Johads, thus developing their sense of ownership and ensuring their ongoing commitment to maintenance. The first fruits of their labours were realised in the very next rains when the river began to flow again.
Working with actual communities, TBS has shown that rather than imposing generic global solutions, facilitating the flow of traditional wisdom as well as introducing appropriate modern knowledge will resolve issues like river flow and further strengthen their capacity to adapt to other threats such as climate change.
---
Node
Minni Jain
Minni Jain's skill is in bringing unlikely combinations of people together in order to bring about the real action needed to enable change in complex systems. Her driving force has always been in keeping the focus on the search for the deeper spiritual meaning of life, to aspire to that which is higher than ourselves. Her work has always tried to initiate and connect grass -root level movements, in India, which is where she originally comes from and in the UK where she now lives. Her motivation is to enable a voice for the poor, the marginalised and the dispossessed using all her abilities. The spiritual question she has been busy with all her life is Who am I?
"The question of whether or not there is a God, or truth, or reality, or whatever you like to call it, can never be answered by books, priests, philosophers or saviours. Nobody and nothing can answer the question but you yourself and that is why you must know yourself. Immaturity lies only in total ignorance of self. To understand
yourself is the beginning of wisdom".
---
Members
Rajendra Singh
Also known as the Waterman of India, Rajendra Singh, is a highly respected social activist working with water and river issues in India. Rajendra and Tarun Bharat Sangh (TBS), the organisation he set up to further this work, have, over 28 years of working in that region, revived 7 rivers, dry for eighty years. He has helped the villagers build more than 12,000 Johads at strategic points. Rajendra Singh is at times referred to as the "Water Gandhi". He was awarded the Ramon Magsaysay Award for Community Leaders in 2001 and the Stockholm Water Prize in 2015. He is one of the members of the National Ganga River Basin Authority (NGRBA) which was set up in 2009, by the Government of India as an empowered planning, financing, monitoring and coordinating authority for the Ganges, in exercise of the powers conferred under the Environment (Protection) Act,1986. In the UK he is a founder member of an NGO called the Flow Partnership which aims to counter the negative effects of soil erosion and flooding.
Michal Kravcík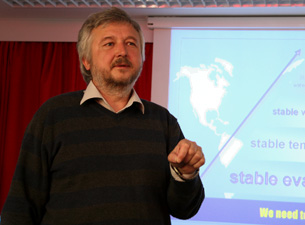 Michal Kravcík,is a founding member and Chairman of the NGO People And Water Rain for Climate . He promotes sustainable programs for integrated river basin management in Slovakia, "Water for Third Millenium" and Blue Alternative. He is the author of publications including, "New Water Paradigm – Water for the Recovery of Climate" (2007), www.waterparadigm.org ". He is an ASHOKA Fellow and recipient Goldman Environmental Prize from 1999.
He has graduated at the Civil Engineering Faculty of Slovak University of Technology in Bratislava. He received a title Dipl Ing. PhD.. He has worked for 8 years at the Slovak Academy of Sciences. He promotes ecological solutions for integrated river basin management. Michal Kravčík had published numerous works, including "New Water Paradigm – Water for the Recovery of Climate" in 2007.
Want to become a Member?
Join us here!